Sky's the Limit's LIMITLESS! Spotlights Founder Tyrese Taylor

Sky's the Limit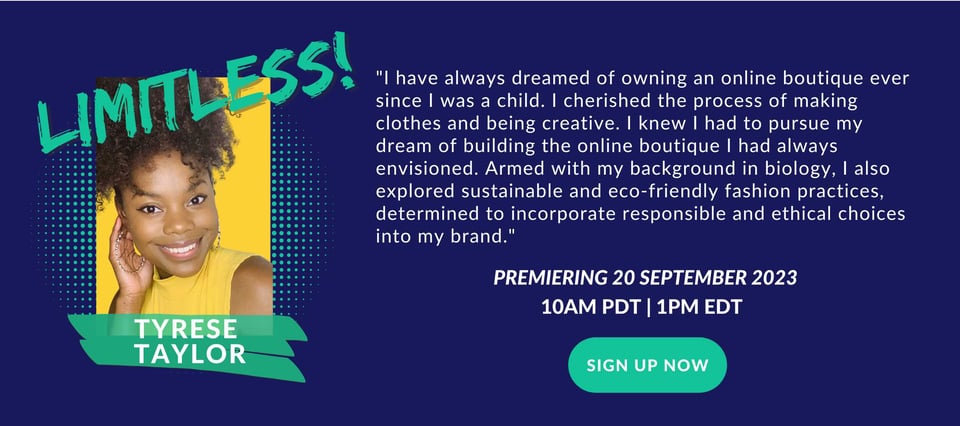 Welcome to Sky's the Limit's Limitless! Blog Series.
Read exclusive interviews with some of the most inspirational and motivating entrepreneurs around, featuring the stories of people who inspire us and encourage us to think differently and #BeLimitless every day. We're spotlighting Founder Tyrese Taylor — we hope you enjoy her story.
And, if you'd like to hear more from Tyrese, be sure to join us for a LIVE watch party and AMA with Tyrese on YouTube on September 20 at 10 am PDT / 1pm EDT. Sign up today!
Q: What inspired you to start your own business?
A: I have always dreamed of owning an online boutique ever since I was a child. Back then, I would spend hours on a fashion design website called Girlsense, selling my designs to other users and running auctions. It was a delightful experience to witness the incredible art created by others, explore various user boutiques, and playing games to earn coins and more.
In my early days, I would draw women's clothing and create doll clothes, even though my lack of technical skills limited the quality of my projects. Nevertheless, I cherished the process of making clothes and being creative. As I grew older, my interests expanded to singing, dancing, and science, but my love for the arts and creativity never waned.
When it was time to choose a career path, I wanted to attend a fashion design school close to home. Unfortunately, the lack of dorms and scholarships led me to a different path. Instead, I enrolled in the esteemed Bethune-Cookman University, where I received academic and concert chorale scholarships while pursuing a major in biology.
Even though I studied biology, my passion for fashion remained strong. During my free time, I indulged in watching DIY sewing and upcycling videos, which inspired me to start sewing. A turning point came when I found a Kenmore sewing machine while thrift shopping with my family. Eager to learn, I turned to YouTube for tutorials and visited a nearby seamstress named Anita to gain valuable insights and techniques.
With thread and fabric in hand, I embarked on my first sewing project, crafting a gray jersey knit pencil skirt, which I still proudly keep to this day, nearly 8 years later. From that point on, I began altering my clothing to fit better and creating new items, reveling in the joy of sewing.
I continued my education and after completing my graduate studies with a Master's degree in Genetics, I realized that my heart was pulling me towards my passion for fashion. It was time for a new chapter in my life, and I knew I had to pursue my dream of building the online boutique I had always envisioned.
With a renewed sense of purpose, I started planning and laying the groundwork for my boutique. I delved into market research, identifying the latest trends and understanding the preferences of potential customers. Armed with my background in biology, I also explored sustainable and eco-friendly fashion practices, determined to incorporate responsible and ethical choices into my brand.
Q: What keeps you motivated day-to-day to keep working on your business?
A: I find motivation when I nurture my vision. I nurture my vision by achieving and tracking my goals. I also feel motivated when I am organized and witness the success of fellow entrepreneurs on social media. Additionally, I am motivated by the possibility of leaving a legacy for future generations. This drives me to stay enthusiastic and focused.
Q: How have mentors and other entrepreneurs played a role in moving your business forward?
A: Lauren Bates, Director of Member Experience at Sky's the Limit, helped me define a style for my boutique. Her assistance extended beyond just aesthetics. She was incredibly helpful across the board, readily assisting with any technical questions I had while consistently exhibited a warm and uplifting demeanor. I am truly impressed by her remarkable qualities and exceptional support. She is absolutely fantastic. Lauren Bates helped me feel confident that I could be successful as long as I keep going!
Eileen Kowalski, Senior VP, National Recurring Field Exam Manager at PNC Bank North America, also provided assistance by helping me solidify a color scheme for my brand, imparting business ideologies and helping me brainstorm brand names for future expansion.

I was able to more than triple my sales this year. It is continuously growing thanks to the funding grant I received. I was able to market my business more frequently and also order more satin fabric for scrunchies and clothing. I was then able to alter the clothing into new styles, giving them a refreshed look to sell at my store.
Q:

What's the #1 challenge you've faced, and how'd you overcome it?

A: When I first started my business, I did not know where to begin. One challenge I faced was not knowing how to come up with a brand statement and mission. I was able to overcome this challenge by following Sky's the Limit's brainstorming worksheet. The self guided worksheet helped me think about how I want people to see my business.
Q: How did you approach funding for your business?
A: I mostly approached funding the business with my own savings to start off. I have had some wonderful friends and family who ordered my products. I primarily self-funded my venture, but discovering funding possibilities on this platform was a turning point. I was fortunate to secure a Sky's the Limit $500 grant, which significantly aided my business journey. This grant enabled me to invest in a marketing planning website, Planoly which streamlined my video scheduling across Pinterest, Instagram, and TikTok, ultimately boosting my sales. The grant also helped me with ordering fabric, thread, and other operational costs.

Q: How do you manage your time between working on your business and other aspects of your life?
A: It is not an easy feat between working full time and being a content creator along with starting your own business. I do my best to manage my time in my planner, setting alarms in my calendar to plan new posts monthly and check frequently on my website to make sure I complete my orders within 2 days.
Q: Any words of wisdom or inspiration you'd give someone just starting out?
A: Some words of wisdom I would give is to build a solid knowledge foundation on the structure of running a business and learn as much as you can via marketing or delegate marketing to a expert to help grow your business!