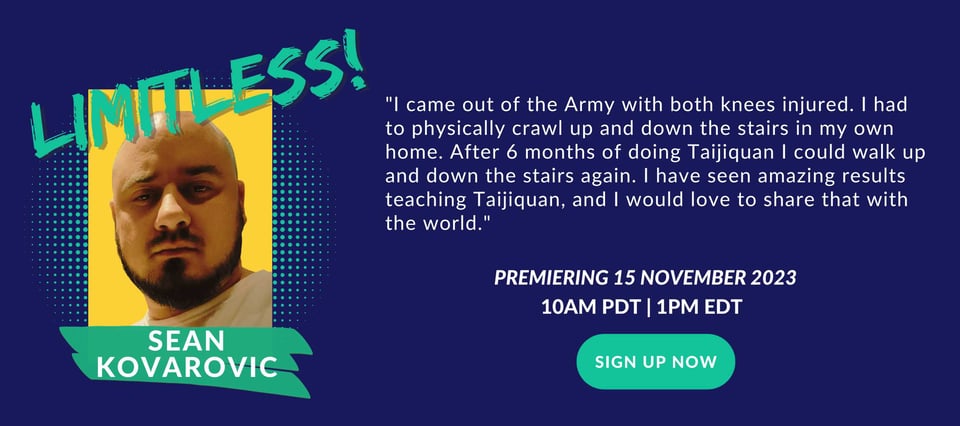 Welcome to Sky's the Limit's Limitless! Blog Series.
Read exclusive interviews with some of the most inspirational and motivating entrepreneurs around, featuring the stories of people who inspire us and encourage us to think differently and #BeLimitless every day. We're spotlighting Founder Sean Kovarovic — we hope you enjoy his story.
And, if you'd like to hear more from Sean, be sure to join us for a LIVE watch party and AMA with Sean on YouTube on November 15 at 10 am PDT / 1pm EDT. Sign up today!
Q: What inspired you to start your own business?
A: I came out of the Army with both knees injured. I had to physically crawl up and down the stairs in my own home. After 6 months of doing Taijiquan (Tai Chi), I could walk up and down the stairs again. I have seen amazing results teaching Taijiquan, and I would love to share that with the world.
Q: What keeps you motivated day-to-day to keep working on your business?
A: My biggest motivation is seeing the results. It makes a huge difference to see things, like an elderly lady who has been reliant on a walker for years, walk across the room with no assistance.
Q: How have mentors and other entrepreneurs played a role in moving your business forward?
A: Paige Ogawa, Strategy and Consulting Senior Analyst at Accenture helped me with how to format and use my pitch deck to send emails to businesses to request funding. When I started putting my pitch deck out there, and fundraising, I was offered an award for Leader of the Year for Health 2.0 Conference in Las Vegas.
Q:

What's the #1 challenge you've faced, and how'd you overcome it?

A: The biggest challenge has been trying to get funding. The help provided by Sky's the Limit helped me think outside the box and discover alternatives solutions to get what we need.
Q: How did you approach funding for your business?
A: I am going to be using the pitch deck and the Health 2.0 Conference to find funding.

Q: How do you manage your time between working on your business and other aspects of your life?
A: I work a full time job, and half of that time is at home, so it allows me time to do research and get ideas to market and raise funds.
Q: Any words of wisdom or inspiration you'd give someone just starting out?
A: Never give up! You will face obstacles; change your thinking until you can move past it. If you are persistent, you will make it.