Sky's the Limit's LIMITLESS! Spotlights Founder Jonathan Makonnen

Sky's the Limit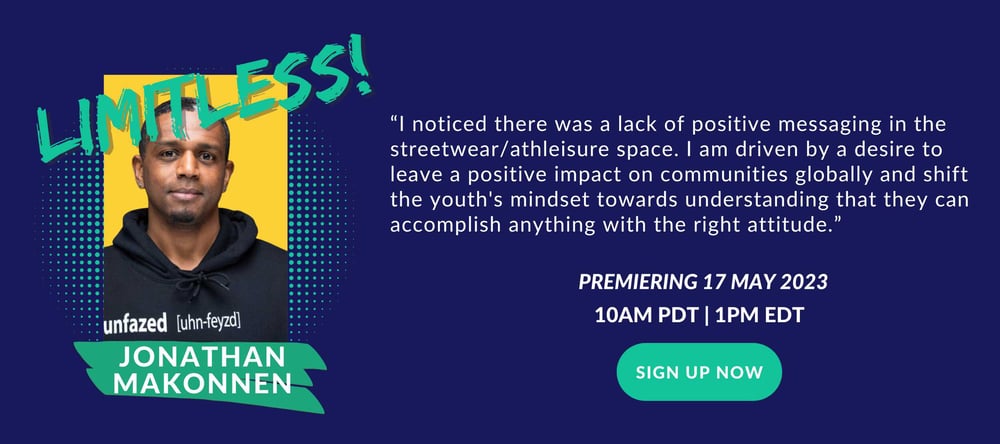 Welcome to Sky's the Limit's Limitless! Blog Series.
Read exclusive interviews with some of the most inspirational and motivating entrepreneurs around, featuring the stories of people who inspire us and encourage us to think differently and #BeLimitless every day. We're spotlighting Founder Jonathan Makonnen — we hope you enjoy his story.
And, if you'd like to hear more from Jonathan, be sure to join us for a LIVE watch party and AMA with Jonathan on YouTube on May 17 at 10 am PDT / 1pm EDT. Sign up today!
Q: What inspired you to start your own business?
A: There are so many reasons why I started my business, but I'll just name a few in no particular order. The first thing was I noticed there was a lack of positive messaging in the streetwear/athleisure space. With UNFAZED, it represents an essential mindset we all need in order to become the best version of ourselves. Another thing that inspired me to start my business was the fact that when I looked at all the big brands in streetwear and athletic wear, all of them had people who looked like myself as the "faces" and "creatives" that generate billions, yet they don't have anyone as a founder. So I wanted to create a successful brand to inspire the younger generation that we can create businesses in the same spaces like Nike, Adidas, Lululemon, etc. ,and we don't have to just be an athlete or an influencer. We can be founders as well.
Q: What keeps you motivated day-to-day to keep working on your business?
A: My motivation to keep working on my business stems from the potential to inspire and motivate millions of people through the brand. With 50 million organic uses of #unfazed, I see an opportunity to capitalize on this momentum. I am driven by a desire to leave a positive impact on communities globally and shift the youths' mindset towards understanding that they can accomplish anything with the right attitude. Additionally, my daughter is a personal inspiration for me to continue building the business and creating wealth for future generations.
Q: How have mentors and other entrepreneurs played a role in moving your business forward?
A: Sky's the Limit staff have been a tremendous help for me, but two individual mentors that have helped me are Shayna Michel and Amritpal Singh. Shayna has been instrumental in discussing marketing strategies for my business and arranging legal resources, while Amritpal assisted me in devising an SEO game plan and handling backend Shopify-related matters. With the mentors' help, I can say more than anything they have given me the confidence that no matter what resources or questions I may have, I know I can present it to them, and it will get figured out. As an entrepreneur, I think the hardest thing is going through a situation and not having the resources or knowledge to correct your mistakes. With their resources and help, it sounds cliche, but Sky's the Limit for my business.
Q:

What's the #1 challenge you've faced, and how'd you overcome it?

A: I wouldn't categorize it as a challenge, but rather a temporary setback occurred when I was diagnosed with colon cancer back in 2018. However, it turned out to be a blessing in disguise as it helped save my father's life. He needed triple bypass surgery, and he came to visit me while I was recovering out of state, which gave him the necessary care and support to survive his situation.

This experience reinforced my belief in my brand, and when I received the diagnosis, I unintentionally demonstrated the values that I preach, such as being UNFAZED. I focused on controlling what I could, which was my mindset, and this made me realize that this was my purpose. I can now spread this message through my merchandise, and that keeps me going.
Q: How did you approach funding for your business?
A: Regarding funding for my business, my approach thus far has been to either bootstrap everything or search for grants that I qualify for, in addition to participating in pitch competitions. Up until now, Sky's the Limit has proven to be a valuable resource in terms of funding, presenting numerous opportunities. I have been fortunate enough to receive the Friends & Family Grant and am eagerly looking forward to an upcoming pitch competition.
Q: How do you manage your time between working on your business and other aspects of your life?
A: To manage my time between working on my business, I prioritize my health by exercising at least six times a week. It is my daily routine, like having breakfast, and helps me alleviate stress while staying focused. Despite the challenges of balancing work with my wife and our new daughter, we have found creative ways to work throughout the day, and it's been successful. Additionally, we make it a point to spend some quality family time every few days and get out of the house.
Q: Any words of wisdom or inspiration you'd give someone just starting out?
A: When it comes to words of wisdom for someone who is just starting out, I would advise them to pursue something they are passionate about so that it never feels like work. It's important to recognize that there will be obstacles and challenges along the way, but it's crucial to persevere and have faith in whatever it is you are doing.