Sky's the Limit's LIMITLESS! Spotlights Founder Erick Donaldson

Sky's the Limit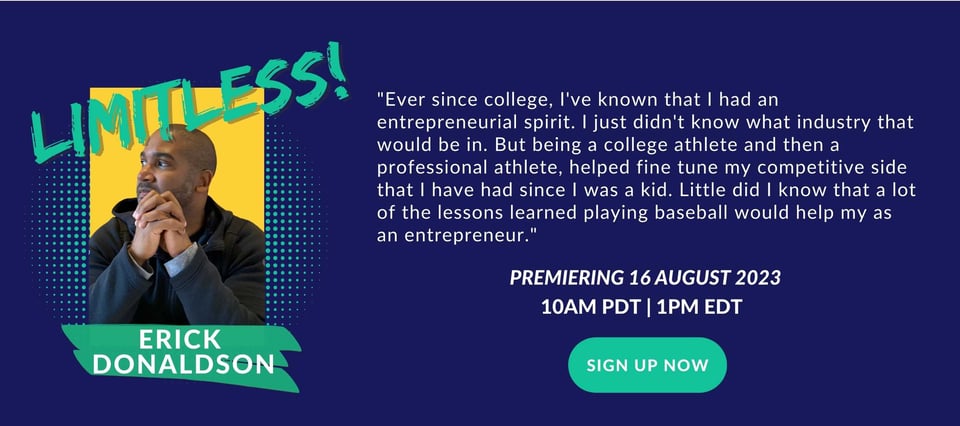 Welcome to Sky's the Limit's Limitless! Blog Series.
Read exclusive interviews with some of the most inspirational and motivating entrepreneurs around, featuring the stories of people who inspire us and encourage us to think differently and #BeLimitless every day. We're spotlighting Founder Erick Donaldson — we hope you enjoy his story.
And, if you'd like to hear more from Erick , be sure to join us for a LIVE watch party and AMA with Erick on YouTube on August 16 at 10 am PDT / 1pm EDT. Sign up today!
Q: What inspired you to start your own business?
A: Ever since college, I've known that I had an entrepreneurial spirit. I just didn't know what industry that would be in. But being a college athlete and then a professional athelete, helped fine tune my competitive side that I have had since I was a kid. Little did I know that a lot of the lessons learned playing baseball would help my as an entrepreneur. But I am sure I get it from my mom. I've been inspired by her starting different businesses over the years, and now I am following in her footsteps.
Q: What keeps you motivated day-to-day to keep working on your business?
A: Like I said in the previous question, I am very competitive. I honestly don't know where that comes from, but it is just something inside of me that I can not explain that drives me to keep working and striving for success in whatever it is that i do. And a bit of stubbornness doesn't hurt, lol.
Q: How have mentors and other entrepreneurs played a role in moving your business forward?
A: Edwin, a seasoned Project/Program Manager with experience at New Era Technology and Accenture, was a great sounding board for my business. He was a great help in prioritizing plans and goals to help us grow. I am very thankful for our chat.
The founder of Harvey Media, Chris Harvey gets a lot of the credit because I would not be a part of Sky's the Limit if it wasn't for him. Chris is the first person I met and who got me started with Sky's the Limit. He has been great in pointing me in the right direction to meet the people that could help me out. He also will be a great help for me in my business because we are looking to do more social media marketing, which I know he can help us with in the near future.
Through him, I met Lauren Bates, Director of Member Experience at Sky's the Limit, who has helped me out and pointed me in the right direction as well. Lauren is currently helping me with designing our fitness apparel. Currently, Lauren has helped introduce me to people who can help me with my pitch and those who may be interested in investing.

I am very thankful for my mentors.
Q:

What's the #1 challenge you've faced, and how'd you overcome it?

A: Everyday is a new challenge, and I believe in prayer. I believe God brings people to help you through your challenges. The year 2020 was the biggest challenge I have faced yet. The business was shut down due to COVID at the exact time I was trying to start a new business, and that same month I had a major heart attack. I only overcame this through the people in my life that God used to help me. My landlord that helped us survive, the SBA that helped us financially, my family that pitched in financially, my studio members who came back after we closed, my staff that worked hard to get us open, everyone that was praying for me and the business at the time, the doctors that saved my life, my parents and my lady that nursed me back to health. They where there to help. There are many more people to name, and I am very thankful for them.
Q: How did you approach funding for your business?
A: Initially, I went through traditional funding, but now I am in the process of raising capital through other means such as private investors and/or venture capitalists.

Q: How do you manage your time between working on your business and other aspects of your life?
A: Work never stops but I try to make a conscious decision to stop and spend time with my family and lady. I have been an entrepreneur for a while now, and I have sacrificed time with family for that. Now that I am a bit older, I have prioritized what is most important, which is family.
Q: Any words of wisdom or inspiration you'd give someone just starting out?
A: I hate to be the bearer of bad news, but I hope that someone just starting out hits a grand slam right off the bat and is super successful and doesn't have to go through the rough times, however, that is few and far between. For everyone else, I would say you are not alone in the struggle of trying to accomplish your dreams. Keep believing and keep fighting because if you feel like you have something worth fighting for, then don't give up when it gets hard.