Sky's the Limit's LIMITLESS! Spotlights Founder Amnoni Myers

Sky's the Limit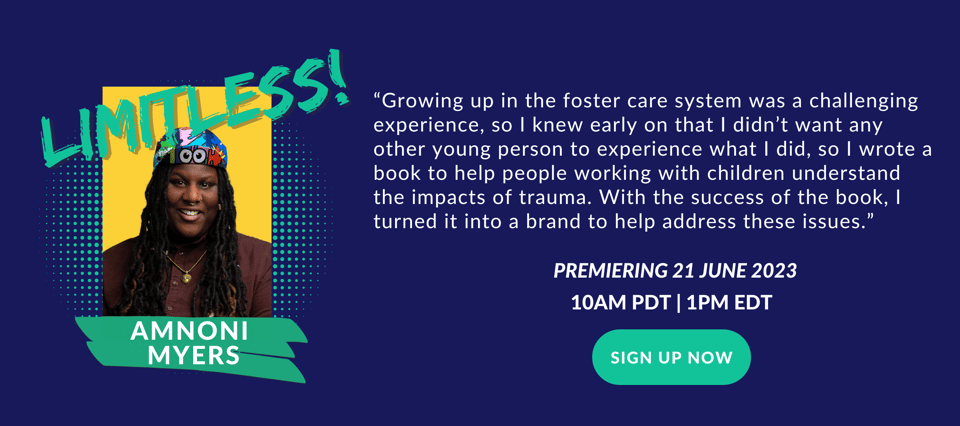 Welcome to Sky's the Limit's Limitless! Blog Series.
Read exclusive interviews with some of the most inspirational and motivating entrepreneurs around, featuring the stories of people who inspire us and encourage us to think differently and #BeLimitless every day. We're spotlighting Founder Amnoni Myers — we hope you enjoy her story.
And, if you'd like to hear more from Amnoni, be sure to join us for a LIVE watch party and AMA with Amnoni on YouTube on June 21 at 10 am PDT / 1pm EDT. Sign up today!
Q: What inspired you to start your own business?
A: Growing up in the foster care system was a challenging experience, so I knew early on that I didn't want any other young person to experience what I did, so I wrote a book: You Are the Prize: Seeing Yourself Beyond the Imperfections of Your Trauma that talked about these challenges to highlight the experiences I faced to help people working with children understand the impacts of trauma. With the success of the book, I turned it into a brand to create awareness, educational advocacy, consulting, speaking and training that would help address these issues with the goal of mitigating trauma by using trauma-informed practices in the care of children.
Q: What keeps you motivated day-to-day to keep working on your business?
A: Staying motivated is remembering my "WHY". I know that my book is being used to help make a difference in the lives of young people so that helps me stay grounded in the work.
Q: How have mentors and other entrepreneurs played a role in moving your business forward?
A: Shayna Michel has been super helpful to me, and I've only known her for the past few weeks. When I first reached out, I explained that I was interested in getting mentorship for my business. She replied expeditiously and jumped right on board. One of the things that I needed support around was having a pitch deck and Shayna and her team worked to help me get it to where I wanted it. Shayna has also been a listening ear when I shared some of the struggles I've faced as a new entrepreneur. She listened well, affirmed my feelings and helped me plan to overcome them. De'Shera and Lauren from Sky's the Limit have also been instrumental in my entrepreneurship journey. They have been able to connect me to great resources and people that have helped me expand my business ideas. Each mentor has given me more confidence by affirming the work I am doing. They each have encouraged me to seek after clients who are willing to pay for my services. Because I've stayed firm on my prices, I've seen that I have gained about three clients since.
Q:

What's the #1 challenge you've faced, and how'd you overcome it?

A: One of the challenges I've faced is not having enough financial capital to get my business off the ground. There are a lot of entrepreneurs who have a safety net within their families and because that is something I haven't had in my family, I have had to get creative. One of the ways I've done that is by joining the Sky's the Limit platform to seek out mentors. Mentors are a form of social capital, and I am realizing an essential element to building a business is being able to rely on people where you may lack experience.
Q: How did you approach funding for your business?
A: So far I've done a few pitch competitions. I am looking for more ways to approach and acquire more funding. The funding I have acquired is allowing me to push the needle forward in my business by providing me with the money to purchase more items for my business and preparing me for more clients. Designing products is also helping me increase my revenue stream by offering a variety of products.

Q: How do you manage your time between working on your business and other aspects of your life?
A: I usually set up time blocks during the week to work on my business and my other projects. It isn't easy, but I know that Monday and Friday are dedicated to that time, so I attempt to use that time with intention.
Q: Any words of wisdom or inspiration you'd give someone just starting out?
A: Chris Harvey said, "If you can understand your why, you can understand your way." And I believe if you can put one foot in front of the other, people will come alongside you and help you navigate your way. You don't have to have all of the answers, but if you are able to take the first step and ask for help, I guarantee you will be able to grow, expand and leap into your passions!