Sky's the Limit's LIMITLESS! Event Spotlights Founder Ray'Chel Wilson

Sky's the Limit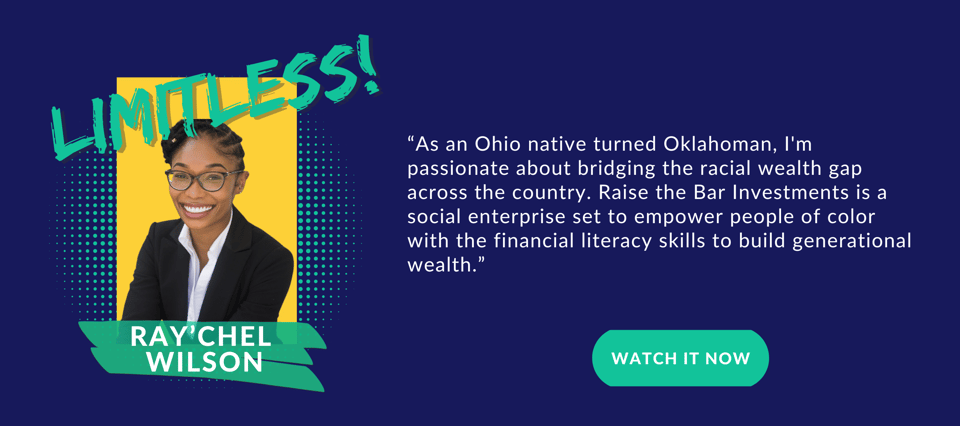 Welcome to Sky's the Limit's Limitless! Blog Series.
Read exclusive interviews with some of the most inspirational and motivating entrepreneurs and mentors around, featuring the stories of people who inspire us and encourage us to think differently and #BeLimitless every day. This month spotlights Founder Ray'Chel Wilson — we hope you enjoy her story.
And, if you'd like to hear more from Ray'Chel be sure to join us for Episode 9 of the new live Web Series Limitless! Register Today!
Q: What inspired you to start your own business?
A: I was inspired to start my business by my students. Fresh out of college from Ohio State University, I began to teach in Black Wall Street Tulsa Oklahoma. At the time, I was assigned to teach biology, but as we graduated our first-ever senior class, I wanted to make sure our scholars had quality and applicable financial literacy education. This preparation led me to create a sample curriculum for our seniors, which resulted in one of our book products, Personal Finance Crash Course: What They Didn't Teach You in School.
Ultimately, my business was inspired by my students and by the real-world problems encountered in the classroom. Although our target market consists of adult minorities, by race, class or gender, we are still inspired by the youth and ensure a portion of our proceeds supports youth entrepreneurship and education.
Q: What keeps you motivated day-to-day to keep working on your business?
A: I'm motivated by my purpose, which I know is education. I started to actively engage in entrepreneurship at the age of 22, which is still early for many. However, if I was encouraged to apply my creativity to entrepreneurship in high school, or even middle school, my personal trajectory as well as my trajectory for generational wealth would be much more accelerated.
Day-to-day business operations are driven by our mission: to close the racial & gender wealth gaps. I'm motivated daily to create a future for the next generation to be financially well and have a high quality of life because they have minority-friendly, easy-to-understand and easy-to-apply resources from Raise the Bar Investments and our partners. I'm motivated to do it #ForOurLastNames
Q: How have mentors and other entrepreneurs played a role in moving your business forward?
A: My mentors have been so immensely helpful. Initially, I met with a few different mentors a week until I decided on 4-5 individuals that I met with on a bi-weekly or monthly basis. A year later, I have two consistent mentors, one who is my first advisory board member and the other I was able to meet in-person recently for a mentorship lunch. With that being said, Sky's the Limit has moved my business forward through their genuinely supportive volunteer mentors that give great insight on business strategy.
Q:

What's the #1 challenge you've faced, and how'd you overcome it?

A: Especially at the very beginning of my journey, I really struggled with imposter syndrome. For those who don't know what imposter syndrome is, it's when you achieve a certain level of success or recognition, but you don't feel like you deserve to be in those places or that you're underqualified almost "imposter-like". Of course, this is rooted in systemic issues as well, but as a budding entrepreneur, especially a first-generation entrepreneur, I had to put all "required credentials" behind me. Through overcoming imposter syndrome, for the most part, I've placed more importance on creating skills through experience, aka iteration and reiteration.

For my practical folks, I'd also suggest creating a win journal or win resume. I have a document called RTB wins that I update monthly to remind myself of the many mini-milestones that built up to the larger successes. It's a process that's humbling, rewarding, healing and invokes gratitude, which we need in order to walk in abundance.
Q: How did you approach funding for your business?
A: Sky's the Limit really helped me pull out my business through its resources - such as the amazing volunteer mentors and templates for customer discovery and strategy.
Because of this, my approach to funding was to plan, meticulously, while also applying for every opportunity that aligned with my business. I applied for the first Friends & Family grant I saw. I applied for local accelerators in my town. I applied for pitch competitions. Similar to many pro basketball athletes, my approach was to stay in a state of practice, so I was ready for gameday performance. More and more, with coaching from my mentors and the application of that feedback, those funding shots went from airballs to 3-pointers.
Q: How do you manage your time between working on your business and other aspects of your life?
A: Organization is a key skill! I actually have a free organization & time management hacks product on this topic for a reason, so check it out online.
Also, I've learned the difference between an entrepreneur and a business owner is systems. Building a team of vendors and contractors, such as our marketing team, my virtual assistant and other key operational areas, has been the most effective time management tool, so I can exist 100% in my role as a Development Director for KIPP Tulsa Public Charter Schools, as well as 100% as CEO of Raise the Bar Investments.
Q: Any words of wisdom or inspiration you'd give someone just starting out?
A: Don't let your background hold you back. Your journey is part of your story. My family wasn't filled with business owners. I was a preacher's kid. In my eyes, there was no connection to entrepreneurship. However, there was one verse my father would always refer to, Habakkuk 2:2-3, that instructs us to write a vision and run towards it. Take that inspiration, take the Sky'sTheLimit.org resources and run towards it.