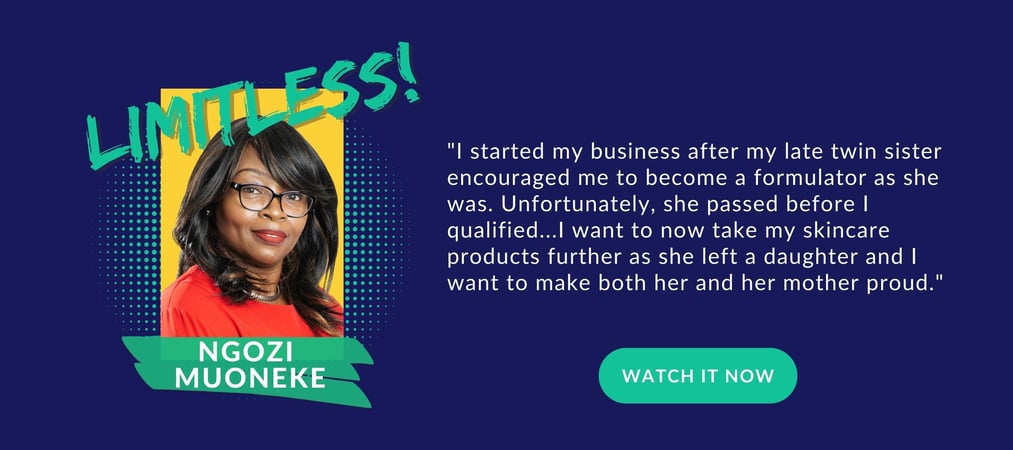 Welcome to Sky's the Limit's Limitless! Blog Series.
Read exclusive interviews with some of the most inspirational and motivating entrepreneurs and mentors around, featuring the stories of people who inspire us and encourage us to think differently and #BeLimitless every day. We're spotlighting Founder Ngozi Muoneke — we hope you enjoy her story.
And, if you'd like to hear more from Ngozi be sure to join us for Episode 5 of the new live Web Series Limitless! Watch it today!
Q: What inspired you to start your own business?
A: My twin sister was a Principle Technician and part of her role was formulating creams and ointments. One day she brought a moisturizer for me and told me she had made it at work and immediately I asked her to teach me, and she refused and said I needed to learn for myself. She later told me there would be an opening where she worked and that I should apply, but I would have to work my way up, of course. I later applied and got the job. 7 months after I got the job, my sister fell seriously ill and passed away within 2 weeks. She left a daughter who was 7 years old at the time. I qualified 3 years after she passed. I decided to start my business in honour of her and to make her daughter, my niece proud and also to leave a legacy for her and my family.
Q: What keeps you motivated day-to-day to keep working on your business?
A: My faith, prayer life and focusing on the end goal. Nothing motivates you more than when someone says no, you can't achieve your dreams. For me it makes me want to prove to the naysayers yes I can, and I will. I hear all the time that the market is saturated. Maybe it is, but there is enough room for me. Each person has their own uniqueness and same in business. Your business may have what seems to some people an insignificant difference, but to others it's that insignificant uniqueness that will be the game changer that customers will love. That is why there is a market for every business. We are all doing the same thing differently to meet different needs.
"Ideas in secret die. They need light and air or they starve to death." – Seth Godin
Q: How have mentors and other entrepreneurs played a role in moving your business forward?
A: The mentors have been amazing! Vanessa Hall and Rob Jacobs have really guided me in the areas of business strategy and business planning. They made me think outside the box and challenged me out of my comfort zone. I am so confident and extremely happy because my business is now structured and moving in the right direction.
Q:

What's the #1 challenge you've faced, and how'd you overcome it?

A: Challenges are inevitable, and there have been many. I overcome it by acknowledging it and use it as an opportunity to learn and gain experience instead of looking at it negatively.
Q: How did you approach funding for your business?
A: So far I have funded my business myself and pitched for the HP event and entered the family and friends funding.
Q: How do you manage your time between working on your business and other aspects of your life?
A: Funny you should ask that. I actually published a book: How To Redeem Your Time Effectively. It's all about work-life balance, which is not always easy when you are single handedly running your business, however; it is important to have that balance for your all-around spiritual, physical and mental health. For relaxation I like to go for long walks. I also volunteer and abseiled 160 feet down a building and raised over $800 dollars for a children's hospital. I spend most Saturdays at my local community choir during the day and at my local community venue feeding the homeless and those in need. My other passions are horse riding and flying helicopters. I am working towards getting my license.
Q: Any words of wisdom or inspiration you'd give someone just starting out?
A: The biggest mistake a small business can make is to think like a small business.
"Put time into learning your craft or skill and become an expert at it so that you're one of the best in the business. I will prepare and some day my chance will come." – Abraham Lincoln
Have a well-thought out written plan or business roadmap to identify where you want to go (GOALS) and what STRATEGIES and ACTIONS you must take to get there.
"And finally, know your product better than anyone. Know your customer, and have a burning desire to succeed." – Dave Thomas