Sky's the Limit's LIMITLESS! Spotlights Founder Joan Cristobal

Sky's the Limit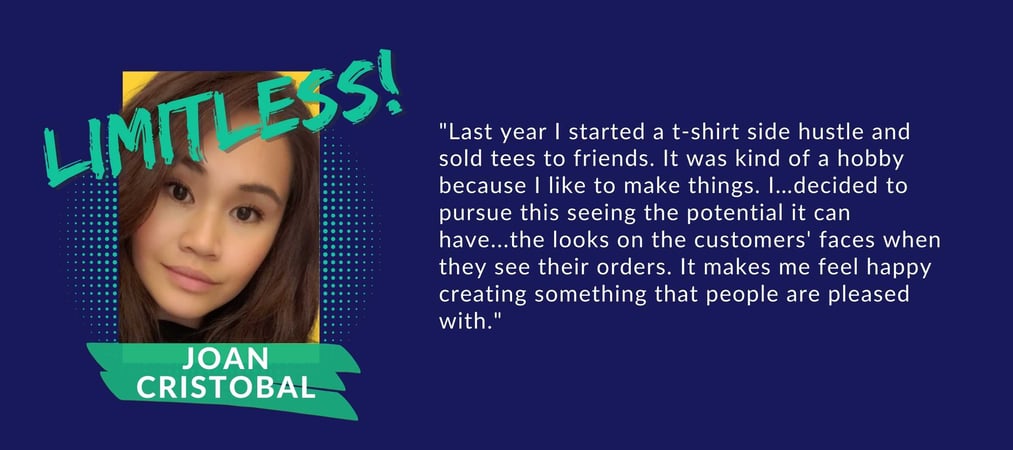 Welcome to Sky's the Limit's Limitless! Blog Series.
Read exclusive interviews with some of the most inspirational and motivating entrepreneurs and mentors around, featuring the stories of people who inspire us and encourage us to think differently and #BeLimitless every day. We're spotlighting Founder Joan Cristobal -- we hope you enjoy her story.
And, if you'd like to hear more from Joan, be sure to watch Episode 3 of the new live Web Series Limitless! Watch it today!
Q: What inspired you to start your own business?
A: I enjoyed being creative and love making things. When I was researching designs online, it would inspire me to design more. It started as a hobby and turned into a hustle which then turned into a business after I received numerous orders.
Q: What keeps you motivated day-to-day to keep working on your business?
A: What motivates me day-to-day are the orders that come in. When the custom orders are placed, it helps give me ideas and inspiration and allows me to use my creativity. And the income is a huge plus.
Q: How have mentors and other entrepreneurs played a role in moving your business forward?
A: The mentors that helped me have been giving me everything from resources, knowledge and guidance to invoices, templates, organization of my business and processes.
Q:

What's the #1 challenge you've faced, and how'd you overcome it?

A: The #1 challenge I've faced is getting my first order for my business. I overcame it by reaching out to my network and asking if they wanted samples and to sell my designs.
Q: How did you approach funding for your business?
A: I self-funded my business by working a day job and then used the income towards supplies.
Q: How do you manage your time between working on your business and other aspects of your life?
A: I was working 12-hour days, and I would sometimes work throughout the night. The more orders that came in, the more I worked.
Q: Any words of wisdom or inspiration you'd give someone just starting out?
A: If there's a will, there's a way. When I started, I didn't know anything and I was working on a boat so I didn't have all the resources I needed. I watched a lot of YouTube videos to learn everything I could.